If you're visiting the Czech Republic, and are keen to try some delicious Czech food, then you've come to the right place. Whether you're a foodie that's feeling adventurous, or you want to inject a little Czech flavor into your home cooking, our article is packed to the brim with exciting and flavorsome Czech dishes. All-in-all, we've compiled a list of 18 traditional Czech dishes that you simply must try when you visit the Czech Republic. Whether you're a lover of succulent meats, rich sauces, or want to try something sweet, this list has a flavor for all types of food lovers.
The Czech Republic is well-known for its unique architecture and hearty beer, with the country boasting the highest per-capita consumption of the beverage in the world. However, when it comes to food and drink, there's so much more to this beautiful country than just a trinket of cold, refreshing beer. The Czech Republic boasts a wide range of traditional foods with a diverse palette of flavors. This shouldn't come as much of a surprise, due to the sheer number of influences in Czech food. Many neighboring Balkans countries have all lent a hand when it comes to food, creating a unique and flavourful range of Czech dishes and cuisine. Full of mouth-watering soups and rich sauces, if you're a lover of meat, in particular, you'll enjoy some of the delicious Czech foods on offer.
We've compiled a list of eighteen traditional Czech foods and dishes that you simply must try when you visit the country.
1 – Bread Knedliky
Knedliky is the country's most basic food. These dumplings are excellent for soaking up all of the tasty toppings and sauces that Czech cuisine has in abundance. They can be sweet and savory, and they are included in almost every sauce-based dish. Czechs say their number one rule is not to spread butter on knedliky or dumplings, and not to eat them with hands. They are not your typical English muffins, although they look quite similar. The most popular type of Czech dumplings are the bread dumplings served as slices.
Traditionally, they are made with slightly stale bread, but nowadays, other ingredients like flour are also added. The dumplings are then shaped and steamed or boiled in water. These bread dumplings are usually served as side dishes for Svíčková and Gulash, or any meat. They are great for soaking up those mouth-watering sauces. They are never eaten dry, but if you like the taste and eat one dry dumpling in front of the Czech, expect them to eye you as if you've done something odd!
Another version of knedliky made from potato is also common, as is simply known as potato dumplings.
2 – Svíčková Na Smetaně
This is definitely not a simple dish as it requires around three hours of preparation, but it's considered the winner of Czech sauce-based dishes. It's a national dish that's usually prepared for special occasions. This classic Czech meal is a quality cut of beef, or beef sirloin, slowly roasted and served with vegetable puree. The vegetables are cooked together with the meat, removed, and pureed together with the meat juice. The meat is covered in cream sauce and topped with cranberry sauce, whipped cream, and a slice of lemon. It is served with bread dumplings. Svíčková may be difficult to make, but it's definitely worth the wait. As Czech food goes, it's right up there as one of the stand-out dishes.
3 – Goulash
Goulash is another must-try Czech food. It is a rich and herb-flavored dish, typically prepared during winter. It's a meaty, gravy-like delicacy, consisting of chunks of stewed beef in a thick meat sauce with paprika, and dumplings or knedliky on the side of the plate. Sometimes you can find it with pork, and even wild boar in the fall. It's usually served topped with shredded onion, and possibly a few chili peppers for some extra heat.
The taste of goulash is similar to that of rich, beef soup with marinated chunks of beef. It's not spicy, but you'll notice the tang of paprika and herbs. Locals like to soak knedliky in the sauce for the ultimate eating pleasure.
4 – Kuřecí Kapsa
Kuřecí kapsa is the Czech version of stuffed chicken breasts with a little German twist and a few unique Czech influences that make something truly special. The chicken breasts are perfectly grilled with a German ham or cheese filling. Mushroom and parsley are also fillings used commonly.
It's a true firework of flavors. The texture of the grilled chicken with the flavored ham and creamy cheese inside is a perfect combination, making this a truly flavorful Czech food by anyone's standards.
5 – Vepřo Knedlo Zelo
This is one of the Czech's national dishes. Essentially, Vepřo Knedlo Zelo is roast pork with cabbage, and, of course, the hearty dumplings. The meat is roasted in onion and caraway gravy. Czech people typically use sauerkraut in the preparation of this meal, but sometimes they use red cabbage. There are sour and sweet varieties of this dish, and the recipe can include other meats besides pork, such as beef and chicken.
6 – Kulajda
Kulajda is a beautiful creamy soup made with mushrooms and potatoes. The mushrooms and sour cream make up most of the soup, so the taste is a delicate combination of sweet and sour. The soup also includes potatoes, a considerable amount of dill, and a poached egg, usually a quail egg. It's often served with a drizzle of thick, green sunflower oil, which helps add to the richness of the dish. Although you can have it as a starter, the soup is surprisingly filling, so it's more than acceptable to order it as a main meal.
7 – Zelňačka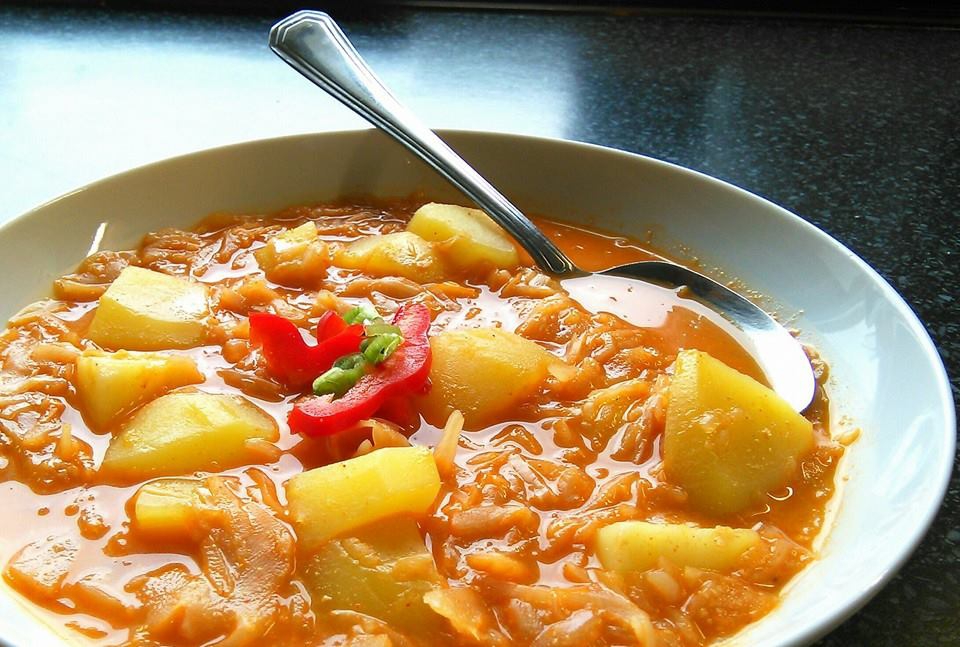 Zelňačka is another delicious soup you must try when visiting the Czech Republic. It's sauerkraut soup, and it's much tastier than you could ever imagine. In fact, even if you're not a fan of sauerkraut, there's a good chance you'll love it. The base of the soup is formed from a generous amount of sauerkraut, but it also includes smoked sausage, potatoes, sour cream, and sometimes mushrooms. It's often topped with a drizzle of green pumpkinseed oil, similar to the way Kulajda is served. When it comes to the taste, you'll be surprised that it's not that stringy, more soft and lush like a chowder.
8 – Bramboráky
These are the traditional Czech potato pancakes. They are made from shredded potatoes, crushed garlic, milk, cumin, marjoram, some flour, eggs, salt, and pepper. Everything is mixed well into a dough, and it's common to add grated celery, cabbage leeks, or onions to the recipe.
Ladles of dough are poured into a pan and fried until crisp and golden brown on both sides. They are served immediately, and often sold as street food at festivals. They go excellent with goulash. Many Czechs enjoy these delicious potato pancakes with a cold beer. It's a Czech food that's a hit with everyday people, that's for sure.
9 – Tatarák
This strange but delicious dish is actually fresh, minced raw beef mixed with diced onion, egg yolk, paprika, pepper, salt, mustard, some diced cucumber, and often a dollop of ketchup. The dish can be made with either beef or pork. You can find it served pre-mixed, or its ingredients placed separately around the plate so you can mix your own Tatarák to taste. It's served with fried toast and garlic. How do you eat it? You grate the garlic against the toast and spread a portion of the meat on top of it. Tatarák goes great with a glass of cold beer.
Since the dish includes raw meat, it's best to choose only trusted restaurants to eliminate the risk of bacterial contamination.
10 – Pečená Kachna se Zelím
This hearty Czech food consists of roasted duck with red cabbage and dumplings, but you can often find roast duck with sauerkraut as well. The red cabbage pairs perfectly with roasted duck, so this delicacy is sure to please you. The ingredients combine to form a dish that's got a little of everything when it comes to flavor: it's salty, rich, tangy, and sweet in every bite.
Roasted duck or roasted goose is very popular in the Czech Republic. They are eaten regularly by families at the dinner table, but also served on special occasions such as New Year's Eve.